Medical
Trusted Switch brand for Medical Solutions
Switches for Medical Applications
C&K Medical switches are the skilled surgeon's interface to the active components in his advanced minimally invasive surgical tool. C&K expertise is behind the haptics the nurse expects when using a critical diagnostic tool or patient monitoring equipment. C&K Medical switches are the feel the patient experiences when using their Home Health Care equipment. Our switches create the soothing reaction of connected glucose monitors and drug delivery systems when testing or delivering critical medicines.
C&K is the leading provider of Medical Device switches. Our extensive switch portfolio is designed for quality, superior performance and long life cycles making us the first choice when you are designing mission critical medical devices. We also have the most extensive solution coverage for connected consumable products that are supported with shorter life cycle products.
When the switch can't be found for your application, that's where C&K excels. C&K has solutions that are solving complex challenges when you are facing size, position and configuration obstacles.  The medical switch needs to make a first impression with quality, superior electrical performance and a consistent professional feel. C&K Medical switches are designed and manufactured to make that first impression memorable and consistent with every use thereafter.
In addition to our industry leading switch portfolio and the C&K Medical Switch Product Line, we support purposely built solutions to meet the most challenging customer requirements. If haptic matching across your product portfolio is required, C&K can do that. When your company's reputation is on the line, it's time for a C&K medical switch. 
Featured Posts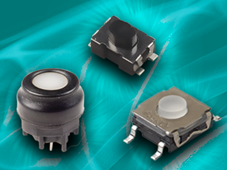 Featured
C&K, one of the world's most trusted brands of high-quality electromechanical switches, today announced its new Medical Switch Product Line at the... >>>